Sungudogo
by Greg Laden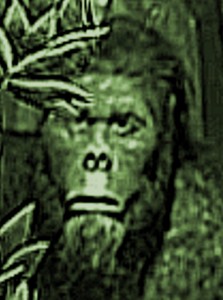 Sungudogo is a little known zoological mystery, an "undiscovered" primate living in the remote and rugged region of the eastern Congo, where the Central African Rain Forest fringes the high walls of the western edge of the Great Rift Valley.
Sometimes called the "fourth African ape," Sungudogo is not a Gorilla, not a Chimpanzee, not a Bonobo, and possibly not even real.
Years ago, Sungudogo drew the interest of the world famous primatologist Dieter Phillips, who was funded by a secret society of "scholars and gentlemen" to launch an expedition to determine the veracity of this mysterious primate. Dieter never returned from that expedition, and as the years passed, the whole story drifted into obscurity.
But the secret society was always watching, always waiting, for clues pertaining to the fate of this expedition. Eventually, evidence came to light that renewed the secret society's interest in Sungudogo and prompted them to further investigate the outcome of Phillip's ill fated trek into the Rain Forest. Who better to follow Dieter Phillip's tracks than his former student, aided by an explorer and mercenary familiar with the area, assisted by two willing Congolese park guards?
They were to learn things that went beyond their wildest imaginations, and they would discover secrets about expedition, about the rift valley, about themselves, about humanity, that they would never be able to share.
… Until now …

Where to get Sungudogo

News Updates on Sungudogo
October 10th:

Sungudogo Web Page deployed. This page will contain updates (like this one!) and information about the book. When the book is available there will be links here to acquire a copy.

October 11th:

Update section added. This section, for updates, was added

October 12th:

Preliminary review copies sent out. Are you a are reviewer? Drop me a line.

October 13th

Working out the publication plan. After a study of comparative ease vs. difficulty, the first production of Sungudogo will be as an eBook on Kindle, with other alternatives following shortly thereafter.

October 14th

It is not so easy to pick the software used to generate the document that will be uploaded to an eBook service. Apple Pages produces ePub documents that won't work on a Nook. Libra Office does not allow a table of contents to not have numbers in it. Microsoft Word isn't allowed in my house. So, tomorrow's task: Make a dynamic TOC from scratch in Libra Office on my Linux box, convert that to a doc file, fix up a few things and see how that goes! Hopefully there will be pre-release versions of the eBook available this weeks some time.

October 15th

Sungudogo has been uploaded to Amazon Direct Publishing and is now available from that bookseller!

October 16th

Amazon Author Page set up. Click here to visit the page.

October 17th

Sungudogo submitted to Smashwords for processing by the Meatgrinder. Processing worked, it will now take up to 7 days for "approval."

October 18th

Working out the print edition. Making choices regarding trim size, paper, etc.

October 19th

Trim size (the size of the book) will be 6 x 9 (9 inches high) and the paper will be cream. More details (font, etc.) to follow.

October 21

Layout for interior of print version completed

October 22nd

Cover Design for Print version completed

October 23rd

Proofs for print version printed out.

October 31st

Smashwords edition resubmitted for the third time; Smashwords' "meat grinder" rejected prior versions, but it is not clear why. The Smashwords version will lack a live TOC and the two maps that other editions will have. This will not diminish the reading experience.

November 12

Sungudogo is now finally available on the Smashwords premium catalog, HERE.

Sungudogo, the book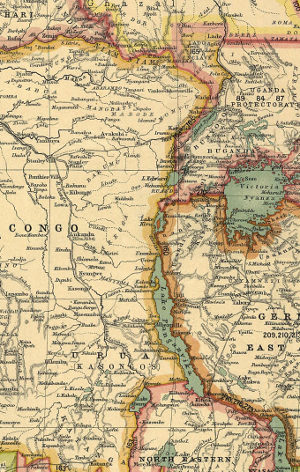 "Sungudogo
" is a manuscript that chronicles the history of this expedition, as dictated by one of the expedition members, from it's beginnings in Brussels, then via Nairobi, Kenya to Goma, Zaire, and from there into the remotest region of the African continent.
The chronicle details the expedition's encounters with the local culture, the challenges brought on by the rugged environment, and the shocking discoveries made by the intrepid team.
Sungudogo is Greg Laden's first novel, originally drafted over a period of 37 hours as part of a fundraising challenge for the Secular Student Alliance, and now heavily revised and rewritten and soon to be available for general consumption.
Shades of the Heart of Darkness, reminiscent of an obscure science fiction novel written by a fictional science fiction writer who was an obscure character in other science fiction novels, with a Lovecraftian theme with a strong dose of Indiana Jones, there really aren't enough allusion-drenched adjectives to describe this novel, which is really a novella. So it won't take you that long to read.
Sungudogo will be available as a Kindle ebook and in other formats. Inquire about review copies here.

What people are saying about Sungudogo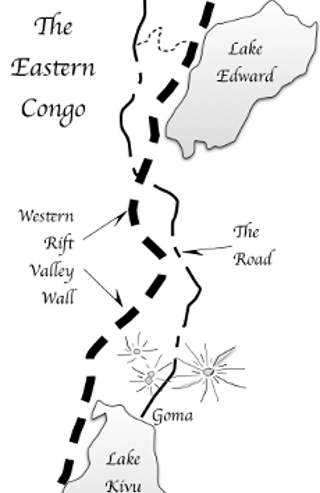 "… for us lucky few that read it as it flowed out of Greg like a bad case of tropical amoebal infection, we can just say that it's like the love child of Barbara Kingsolver and Kilgore Trout.."
-Mark Leue, High School Friend of the Author
"Yes, Dear, it was really good."

-Amanda Laden, the Author's wife
"… I liked it a lot, it is an interesting adventure into Africa. It is a thriller that will leave you guessing until the very end, and has some unexpected laughs…"
-Sarah Moglia, SSA staff member and the only real person who is in the book
"…I found several surprises that I deeply enjoyed reading and would like to say that for a first, self-published novel this one is worth downloading and reading on the bus to keep your mind of the fact that you are on your way to work. It's a pulp fiction book that engrosses the reader…"
-Mike Haubrich, Tangled Up in Blue Guy Blog

Passages from Sungudogo
We settled at a table in the restaurant, which was entirely outside, dirt floored, without a roof, and were immediately joined at our table by a woman who told us that she and her husband owned the place. People came and went, and a continuous ongoing conversation ensued. The conversation shifted between languages depending on what one wanted to say. When speaking of politics and morality, French was used by those who knew it. When speaking of village business and the usual gossip, KiNguana, a form of Swahili, was used. At one point a soldier who was on his way north to fight the rebels in the Ruwenzori Mountains showed up and settled in, and at first he spoke only in the unofficial language of the Army, Lingala. But as people mostly ignored him and he got drunker he shifted into KiNguana with which he seemed more comfortable. The conversation among the owners of the establishment was in Budu, because I think one of them was a native Budu speaker. But the twins spoke only in KiLese, as they quietly conversed among themselves.
~
The last nine hours of the 12 hour day were spent driving up a hill. Funny, when you think about hills … most hills, when you are driving up them, go up and down and up and down but on average up. Going up this hill involved only going up. There was no down. Rarely steep, but always, unrelentingly up. That is why the transmission was so hot. And that is why, if we ever did manage to turn around and head back to the lowland forest, the transmission would be saved but the brakes would get very hot. We would need more water to cool the brakes every several clicks than we would need to keep in the radiator to cool the engine … And as we drove up the hill, the never ending hill, the road had gotten narrower and narrower and increasingly rutted, until there were places where we were driving with two wheels on a footpath, one wheel in the dirt, and one wheel more or less dangling over the edge.
We were the first outsiders to drive up this road in more than 20 years, and that last intruder was a primatologist named Dieter Phillips and his team. Pat and I were now looking for the same thing he was looking for, and we were also looking for him. He came here 20 years ago and was never seen again, though parts of his Land Rover did make it back to a local market outside of the sprawling settlement 100 kilometers south of us. In an uncanny coincidence, that door would end up attached to the very Land Rover we were in now.
~
Eventually he said, "Gorillas. I can bring you to the gorillas." We figured that was good enough for now. "Where are they?" Pat asked.
He pointed behind himself, to the twin hills. "There. On one of those hills."
The two hills stood side by side, one to the north, one to the south, with a deep ravine dividing them. The western slopes of the hills started near the village, and the hills rose some 500 meters or more, and then were fairly flat-topped. The other side of the hills likely dropped 1800 meters or more to the edge of the lake below. Without technical gear, it would be absolutely impossible to reach the shore of the lake from this village, even though in a straight line it was less than 10 kilometers away.
"Do these hills have a name?" Pat asked. I translated the question for Aberli.
"Uelelima," was his answer. "That is also the name of our village."
This confirmed that we had arrived.
Sungudogo
MAPS
Here are two maps that may help you navigate through the geography represented in Sungudogo: