Puzzle Solved! (See comments)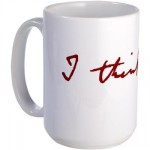 I am very very disappointed in my readership that no one has yet figured out the meaning of the phrase "The X Blog." I admit that if you google "The X Blog" you get things that are not helpful in pursuit of this information. And I admit that there is no wikipedia article on "The X Blog" so you can't just look it up there. But if you do piece together just a few additional clues that are in the first post on the blog, and do a little bit of investigating, you can figure it out. It isn't totally obvious. It is obscure. But once you are there, it's very cool.
To know what The X Blog is, you need one word.
There are clues all over the place.
The modern use of "X" will seem absurd.
You'll be close when you find the face.
A blog is like a child
And a child is like a blog.
A name can be revealing
Or it can be like fog.
To win this cool mug
Be the first to know the name
And you can rhyme me some smug.
And revel in the fame.
If you are a blogger on Freethoughts.com, you probably already know this (especially if you are Stephanie). That makes you ineligible! Also, Amanda is ineligible! Julia is overseas so she does not know, and Huxley is too little. Everybody else, let's see what you can do.
In the event of close calls or ties, I'll determine who gets the mug. Win a bounty of one mug to the first correct guesser, put your guess in the comments.