It occurs to me that I have known, even been close to, people whom I've never met in the flesh, that I know in a virtual world only.  Only one or two, but it is really true and when I think about that, I'm astounded.  More common are the people whom I know as well or best from virtual space but I also know or have met in person.  Most (maybe all) are colleagues.  It's like knowing someone only from conferences.  You see the guy every year at a conference and when you get together again each year or two an unmaintained friendship turns back on and runs from that Thursday to that Sunday.  My point is that part of my world has been virtual for a long time.  <!–more–>
I wish to live near a spot frequented by my loved ones.  They are all too polite to stop randomly in my house (but they would be welcome).  Not everyone loved by me knows they are.  Some I wish to see sometimes but not necessarily care for that much.  Some I simply need (you know who you are!).  This is the coffee shop model of society.  I want to be writing and thinking intensely and be interrupted by one I'm glad to see, rather than by an intrusive email or thoughts I don't want to have.  But there are reasons why this cannot happen, including the unfortunate fact that not everyone I love or like or need lives within walking distance of any place.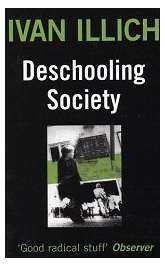 I'm sure when I was young I thought of the Internet.  So many people must have.  I'm sure when I was about 13, I read Ivan Illich's "Deschooling Society

" and that was the first time I ever heard of a coffee shop.  He wanted everyone to hang out in coffee shops instead of having universities.  I remember thinking it would be easier to do this by computer than to invent the coffee shop.  At the time, this meant  to "finger" someone.  Having an identitycrisis?  Just type "whoami" at the terminal.  Today, virtual communities use the exact same technology (… really, the exact – same – technology …) but wrapped in layers allowing human readability.
I have the strange feeling that I have been ignoring the Internet all along even though I am constantly connected to it.